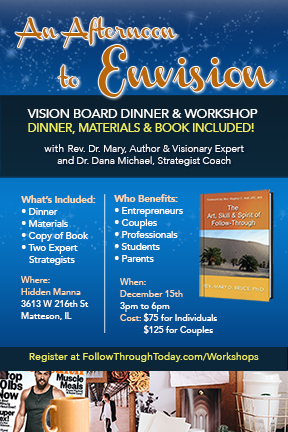 What: Vision Board Workshop
When: December 15th
Where: Hidden Manna
Workshop Cost: $75 for Individuals | $125 for a Couple
Includes: Dinner, materials, book
Limited Availability! Reserve Your Seat Today!
Join us December 15th for An Afternoon to Envision. Imagine networking with a group of professionals who are taking their futures to the next level. This is a vision board dinner and follow-through workshop experience with Rev. Dr. Mary, author of the Art, Skill & Spirit of Follow-Through.
First 10 to Register: Receive an upgraded color copy of the book.
A vision board is a collage representing things you would like to Follow-Through on in your life. Vision boards can be as specific or nonspecific as you want them to be.
The workshop will include a Follow-Through presentation by Rev. Dr. Mary, the creation of the vision boards, and a wonderful dinner at the Hidden Manna in Matteson, Illinois. Dinner and materials are included in the ticket price. All you have to bring is you and a friend!
You don't want to miss this. It is an experience that will help you define the vision for your life or business and Follow-Through on your dreams, visions, and goals.
Register Now
If you are unable to make it, but would still like to contribute to the Follow-Through Vision, please click here to make your contribution:
[paypal-donation]